Native Ads
Back to Ad Specifications
Native Ads seamlessly blend brand messaging with Nine.com.au homepage content by delivering ads into story tiles. Native Ads are responsive and will dynamically serve across desktop, mobile and tablet.
Click here to preview our native ads. Look for the tiles containing our logo within our homepage content. Demo below: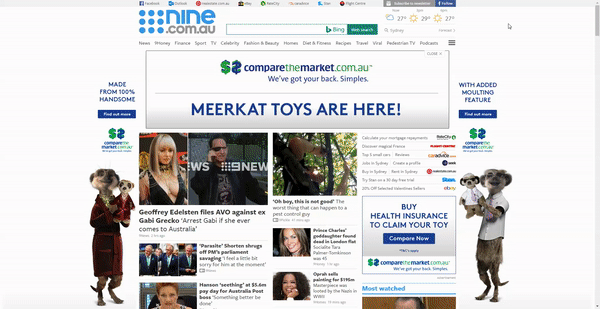 Nine Digital Served Specs
4 assets required: Image, Title, Description, Landing page URL
Character limit: Maximum of 54 characters across title and description including spaces
Image Dimensions: 222x124
Accepted Format: JPG/PNG
Max image file size: 40kb
CPM booked campaigns must run one image, title and description
CPC booked campaigns may run a maximum of 3 combinations of image, title and description
Nine Digital Editorial Requirements
Advertiser must provide a title and description. Minimum 10 characters in title. Minimum 10 characters in description.
The title and description should form two separate statements, rather than one sentence.
No abbreviations. Sentence casing to be used. All CAPS not accepted.
No commas in thousands if less than 10,000. For example, 9786 - NOT 9,785
No full stop in title or description
Copy Requirements
Title and description copy should attempt to convey an idea, emotion or story over and above a retail/sale message
Title should contain a verb; For example - "Explore the beautiful South Island" instead of "South Island sale on now"
Image should aid in storytelling; It should not contain products, brands or logos or copy
Format Availability
| | | |
| --- | --- | --- |
| Areas | Approved to run | Notes |
| Nine O&O homepages | Yes | Network home only - nine.com.au |
| Nine O&O articles | No | |
| Nine O&O galleries | No | |
| 9Now Extras | No | |
| MSN homepages | No | |
| cricket.com.au | No | |
| bigbash.com.au | No | |
Important Information
All images and content must be appropriate to the general audience nature of the page.
The ad cannot not alter the Nine Digital brand or alter the page layout, navigation, design or content.
All creatives are subject to Nine Digital approval. We reserve the right to request changes for brand equity/user experience reasons.
Acceptance Policy
Nine Digital may at its absolute discretion refuse to publish any advertisement on the Nine Digital network.
Nine Digital reserves the right to reject / remove any rich media ad that does not meet its creative specifications, contravenes internal guidelines or adversely affects network website performance, other ad placements or user experience.
Nine Digital reserves the right to remove or request the removal / revision of any creative that is deemed unsuitable or in conflict with our content, audience, commercial objectives or IP, including (but not limited to) requesting the removal of any competitor branding from advertisements.
Timelines & Delivery
CPM campaigns are limited to one image, title and description.
CPC campaigns may provide up to 3 combinations in total across image, title and description.
Image and copy must be submitted at least 5 working days before the campaign live date. Campaigns must be approved editorially before being passed on to our trafficking team.
If creative is late an estimated % of impressions equivalent to the forecasted daily inventory level will be cancelled from the total impressions booked.
FAQs
What do I need to provide? You only need to provide an image, title, description and a landing page URL. Our ad team will take care of the rest.
What is the deadline on providing creative? Text and images must be provided 5 days prior to live date. All native ads must be approved by our editorial team which requires 1. copy approval and 2. confirmation that the built ad conforms to Nine network standards.
Can I provide text only? No. All native ads must include a 222x124 image.
Can I provide 3rd party click and impression trackers? 3rd party impression trackers are accepted. 3rd party click trackers are accepted when included within the clickthrough URL.
Can I target desktop or mobile? It is not possible to target devices separately. Your native ad will deliver across Nine.com.au on desktop, mobile and tablet.